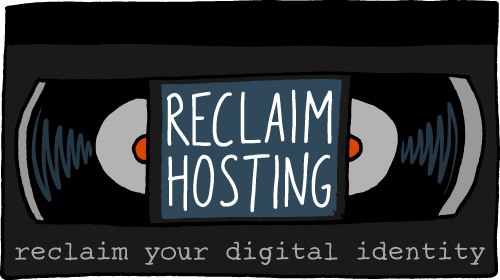 It is with much pleasure that I announce the Remixer Machine's latest backer, and the inaugural organisational backer, Reclaim Hosting. Woot woot!
I've been a fan of Reclaim Hosting, since first meeting Jim Groom in Barcelona a few years ago. In fact, it was working with Jim that taught me the power of aesthetic; how a visual can invoke a subconscious emotional response long before you've processed it with your conscious mind. Over the last few years I've seen the Reclaim team grow, and I'm envious of their adventures, especially as they seem to involve arcade games, Raspberry Pi's, retro movies and Scooby Doo mashups…
If you haven't come across Reclaim Hosting, they aren't really a hosting company – they're a support company. They'll help you take back control of your school/college/organisation's multi-author creative web presence. Ask around – their support is legendary. Visual Thinkery has been hosting its web presence with Reclaim for years.
And so, there's a new addition to the Remixer Machine: Reclaim your VHS
What have you taped to watch later – the snooker? In Black and White? Well that's up to you I suppose…